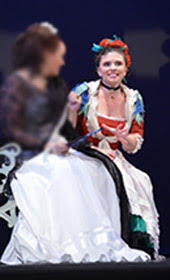 Soprano, Hannah Meloy, obtained her Master of Music degree from the Longy School of Music of Bard College, where she studied with accomplished pedagogue, Carol Mastrodomenico. Longy was also where she worked with many other esteemed educators such as Robert Merfeld and Brian Moll who have had a great influence in her approach to teaching.
She has had the privilege of being coached by some of the very best musicians in the world today such as Susan Graham, Bradley Moore, and Eduardo Valdes, and John Harbison.
Her teaching values revolve around creating and nurturing a healthy, efficient technique while inspiring a deep emotional investment in music.
Aside from teaching, Hannah is an avid performer. Her operatic roles include most recently, Miss Paige in Dan Shore's 'An Embarrassing Position', Despina in 'Così fan tutte', Susanna in 'Le Nozze di Figaro', Pamina in 'Die Zauberflöte', Foreign Woman in Menotti's 'The Consul', and Yum Yum in 'The Mikado'.
She has performed with the Jacksonville Symphony Orchestra, the Beiras Philharmonic Orchestra in Portugal as well as with the North Czech Philharmonic Orchestra.
With a passion for performing art song, she recently won the Longy School of Music Honors Competition and can often be found planning recitals with other local musicians.
In addition to her classical training, she has a strong background singing in the styles of musical theater as well as pop, and always encourages her students to be open to new musical styles.
----------
Carla Maniscalco-Giovinco is an Italian-American soprano performing a diverse array of repertoire throughout the greater Boston area. Her performance credits include The Pirates of Penzance, Le Nozze di Figaro, The Medium, Carmen, Suor Angelica, Lucia di Lammermoor, Dido and Aeneas, Cosi Fan Tutte, Die Zauberflöte, Don Giovanni, and Dialogues of the Carmelites.
In addition to opera, Ms. Maniscalco-Giovinco is equally at home on the concert stage as a soloist and ensemble singer. She appeared with the Salem Philharmonic Orchestra as a soloist, performing a selection of beloved opera arias by Puccini, Massenet, and others. She is a frequent performer in concert with North End Music and Performing Arts Center, New England Light Opera & Gilbert and Sullivan Society, and Longwood Opera.
She is also an avid recitalist and liturgical musician, singing weekend, funeral, and wedding services at several churches throughout the North Shore.
She has studied voice in Rome, Italy and Tirol, Austria and graduated with a Bachelor of Music in Vocal Performance from the Aaron Copland School of Music in New York City in 2009, a Masters Degree in Opera from the Longy School of Music of Bard College in 2012, and a Graduate Performance Diploma from the Longy School of Music of Bard College in 2013, and also has extensive training as a dancer.
Her personal teaching method comes from her own vocal studies with emphasizes on breath control and correct body alignment, which in turn allows the body to relax and the voice to be set free. Ms. Maniscalco-Giovinco has found that approaching singing as an athlete approaches their sport; with dedication, practice and understanding of the body, the student is able to learn how singing can influence other aspects of their life. Body alignment and correct posture allows the voice to be flexible and agile. Ms. Maniscalco-Giovinco uses athletics, dance and yoga to teach her students how the body and the breath are connected to enable the best vocal production, which, in turn allows the performer to focus on the dramatics of the work and not be concerned with technique.